A Point Of Departure is the new exhibition at the
Towner Gallery
. Its theme is primarily paintings and photographs of the coast between Newhaven and Beachy Head, the port through which so many thousands of travellers have passed, and the white cliffs that are the first sight of Britain when returning home. The Towner are advertising the exhibition with a John Piper painting of Newhaven and the exhibition also includes works from Edward Bawden and the inevitable Eric Ravilious. However, this is not all!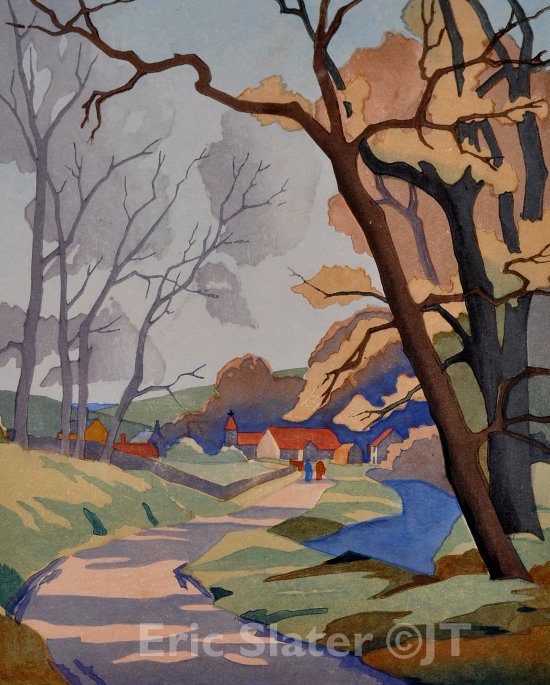 Early Spring by Eric Slater
I liked a small run of works by Roland Collins, especially 'Beachy Head from Belle Tout' and 'The Yellow House' both of which were vibrantly coloured paintings with, I thought, unusual viewpoints. Also, make sure you discover the Noel Dennes print 'Belle Tout Lighthouse' which is tucked away behind the reading table and is quietly beautiful.
More prints are featured in an anteroom dedicated to
Eric Slater
. I will admit to never previously having heard of him but, for me, this was the highlight. Slater worked from 1929 until 1938 and his woodcut prints are very 1930s in style. He lived in Seaford and, prior to the Second World War, exhibited around the world. However his work then fell out of fashion and he died in obscurity in 1963. Ten of his prints are on display at the Towner and my favourites are 'Rough Sea' and Early 'Spring'.
The final work I would like to pick out is a pair of photographs by Bill Brandt. The black and white shots can simply be described as a woman on a beach but they are posed and taken in such a way to make the woman appear as pieces of driftwood. Very atmospheric and stunning.
A Point of Departure is at the Towner from 12th May to 11th November.
Both the exhibition and the talk are free admission but booking is advised for the talk as places are limited.